I put together this list for Love in Panels:
Sometimes the urge to do something is so strong you just have to go with it. I've been reading romance for close to a decade and as we close this decade I felt a great necessity to look back at the Romance novels that marked me as a reader. Although I only started reading romance seriously during 2010, I started with what my library collection had, so my first romance novels were really books that had been out for years (Balogh, Kleypas, Quinn, Garwood, Dodd, Krentz and Chase). They were an excellent crash course on romance, if Romance is only for white, cis, straight historical ladies. I don't regret reading them, I just regret thinking they were the only things out there.
This list is not some prescriptive list of the best books in the last decade but a survey of the books I've read over the past decade that I can still look back at fondly and that I think still have something to say to romance readers.
This post contains affiliate links (in the book titles).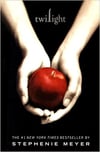 2005 -- Twilight by Stephanie Meyer
Much maligned and mocked I still have a special place in my heart for Twilight which I read in that transitional time where I learned that I loved reading about relationships and I wanted happy endings. Full of classic PNR and gothic elements, and found family feels, I can happily admit that Twilight sucked me in and I enjoyed the journey, especially the more bananas it got.
(CW: Violence, murder)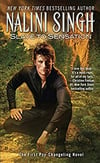 2006 -- Slave to Sensation by Nalini Singh (Psy-Changelings #1)
This was one of the first romances I ever read. Singh's intricate world building appealed to my SF/F reader heart. I still love the core story, that of a MC who thinks they can't feel or that they are broken beyond helping, finding their power and community. I still love romances where the MC not only find each other but find their people and a new way to live.
(CW: Violence, murder)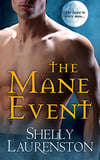 2007 -- The Mane Event by Shelly Laurenston ( Pride #1)
I love Laurenston's madcap adventures and feral heroines. I love her sense of the ridiculous whether she is writing as G.A. Aiken or Shelly Laurenston. Although I discovered this series as the 11th book was coming out, I immediately went back and read the rest. No one piles up more supporting characters, over top aggression and ridiculous fights into her novels than Laurenston and that is 100% an endorsement. (CW: Violence)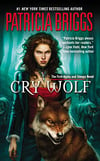 2008 -- Cry Wolf by Patricia Briggs (Alpha and Omega #1)
I still remember what I was doing when I listened to Anna and Charles's first encounter. They are still one of my favorite romantic pairings, as they are so very different but they bring out the best in each other. Romances frequently put MCs through the wringer, but I love that Briggs has built Anna back up slowly and carefully, honoring the work that trauma survivors have to put in to heal while always being true to the hopefulness of their love together.
(CW: Abuse, violence, murder, Past trauma: Sexual assault, abduction, forced turning)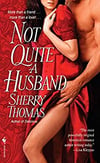 2009 -- Not Quite a Husband by Sherry Thomas
This polarizing second chance romance blew my mind with its conflict and angst when I first read it and I still think about it. Thomas always challenges me with her romances, with the obstacles she places between her MCs and with the pain she deals them.
(CW: non-consensual sex)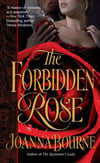 2010 -- The Forbidden Rose by Joanna Bourne
Marguerite, wily, flinty and fierce is one of my favorite heroines. Doyle's respect and devotion are swoon worthy and Hawker's acidic commentary is the best. I think of these novels as Historical Romantic Suspense, they raised my expectations of all Historical romance through their fabulous plotting, sublime characterizations and settings.
(CW: torture, incarceration, murder attempts, political oppression)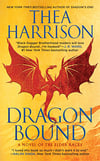 2011 -- Dragon Bound by Thea Harrison
The most unequal of power dynamics, the alpha-iest alpha to ever alpha and a little thief who outsmarts him, when she should be the one outmatched. Harrison's Dragos is deliciously overbearing, a dragon who only looks like a man and Pia a delight, as she waltzes into his life and truly overturns it. I loved the world, and all the different supporting characters.
(CW: dubious consent, violence).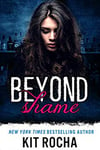 2012 -- Beyond Shame by Kit Rocha
I picked up this novel expecting darkly erotic biker club energy and instead I found a series that had darkness and eroticism but so much more. The O'Kanes grow from a scrappy band of bootleggers into world-changing revolutionaries working to make the world safer for love and family. The books are supremely queer and kinky, full of loving constructive community and belonging. They hold up to multiple re-readings, as I find deeper connections each time I do a re-read.
(CW: guns, violence, attempted sexual assault, BDSM, Past trauma: repression, banishment)
[Editor's Note - Remember that Ana has a podcast dedicated to this series!]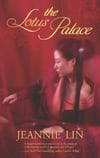 2013 -- The Lotus Palace by Jeannie Lin
By 2013 I was burning out on Historical Romance. I had read pretty much all I could bear about overheated ballrooms, weak ratafia and reformed rakes. I thought I was done with Historical Romance. But when I picked up The Lotus Palace, I realized there were a whole lot of historical romances to discover. My World History loving heart loved immersing itself in a new environment, with different strictures and conventions and MCs who don't give up when things seem hopeless.
(CW: murder)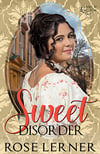 2014 -- Sweet Disorder by Rose Lerner
If The Lotus Palace showed me how rich historical romance could be when it stopped centering White Brits, Lerner's Sweet Disorder showed me that I could love UK historicals again, if I looked for books where the rich and perfect are not in the center. Lerner's flawed, grumpy, fat heroine, and war-ravaged disabled hero find love and the wrong time and in the wrong person, and their love is irresistible.
(CW: Grief, Poverty, Past Trauma: War)

2015 -- A Seditious Affair by KJ Charles
KJ Charles is one of my favorite writers and A Seditious Affair is one of her best. This enemies to lovers story is full of layers of complication, as class, politics, loyalty, and kink mix into an explosive brew. The resolution is a jaw dropping, roller coaster and it made me so happy to read.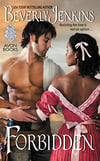 2016 -- Forbidden by Beverly Jenkins
Forbidden was the first Jenkins novel I read and it is still one of my favorites with its indomitable heroine (she is determined to carry that cookstove with her through the desert), conflicted hero (who has a huge choice to make) and its deeply researched history. I loved the tension between Rhine and Eddy and how Jenkins captures the rich and complicated stew of relationships people of color, Latino, Asian and Native American had in the West, reclaiming book by book that history from all that want to whitewash it.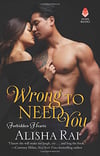 2017 -- Wrong to Need You by Alisha Rai
Everything about Wrong to Need You worked for me. I loved Sadia, her love for her sisters, her feelings about her family expectations for her, her regrets about Paul, her love for her son and both her anger and her love for Jackson. I loved how Jackson and Sadia work out those feelings and face up to the pain of disappointing family and the power of standing with the people you love.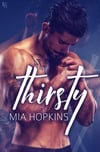 2018 -- Thirsty by Mia Hopkins
Starkly realistic, Hero only-POV, and super steamy, Thirsty is a lot of things I don't usually read anymore, but Sal's story of building a life, when everything seems orchestrated to drive him to despair and not only finding an unexpected passion and someone who convinces him that he is worthy of love was frankly astounding. Sal journey is one that inspires empathy and gives hope while not ignoring stark realities, and that is something romance does when it is at its best.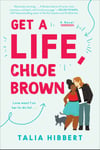 2019 -- Get a Life, Chloe Brown by Talia Hibbert
I was so surprised by this book. It did everything I wanted a book to do this year. It was hopeful, true and is showcased a world full of intersecting identities. It is wit and fantasy just added to the trueness of core story. Of people screwing up royally while learning to reach for love and letting others truly know them and love them back.
Ten years of Romance reading and fifteen years of books that have helped me through many hard days, weeks and years. Books that celebrate love in all its many incarnations, books that let me see in to more intimate moments of other people's lives and help me process my own. These books are worth celebrating, reading and loving. I hope you love them as much as I do.